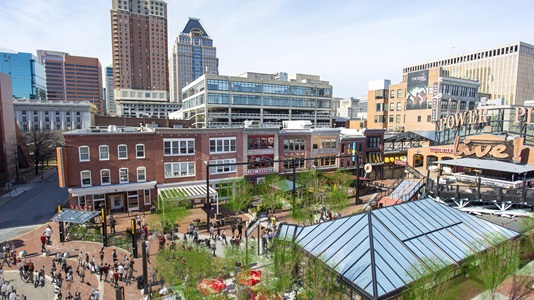 Rally In The
Alley XIX
Let's Make Up For Lost Time 🎉
Rally In The Alley is back and is returning this fall on Saturday, September 18th!
Tickets go LIVE! on Monday, August 15 at 10:00 AM.
This daytime event is packed with high energy entertainment. Regional DJ's blasting the latest EDM and top 40 hits, festival and bar games, confetti cannons, giveaways and more!

Tickets include five drink tickets that are good for your choice of Miller Lite, Blue Moon, Leinenkugel's Summer Shandy, Angry Orchard, AND cocktails! Cocktails will be featuring premium brands like Jack Daniels, Smirnoff and Captain Morgan.

Ticket also include access to participating venues including Angel's Rock Bar, Kraken Axes, Leinie Lodge & Beer Garden, Luckie's Tavern, Mosaic Nightclub & Lounge, PBR Underground Pizza Company, Tin Roof and the Plaza.

Not for Resale. Must be 21+ to Enter. No Re-Entry.
Bubbles & Bottles Birthday Bash

Mosaic Nightclub & Lounge

You made the A-List and have unlocked the ultimate VIP treatment for your special day. Get ready to pop some bottles to get this party started! 🍾

The Maryland Mac & Cheese Festival

Power Plant Live!

Baltimore are you ready for this? The Maryland Mac & Cheese Festival is taking over Power Plant Live! on May 21 & 22! Join us for a family friendly event filled with mac & cheese themed activities and madness. Join us for an event filled weekend where we'll bring together over 15 of the area's best restaurants, food trucks and chef's cheesy visions into reality! 🧀🍟

What's My Age Again?

Angels Rock Bar

Celebrate your birthday like a legendary rock star at Angels Rock Bar. And if your friends tell you to act your age...well, we won't judge...much. 🎸

Buckin' Birthday

PBR Baltimore

Celebrate you're birthday PBR style, y'all! Let us know you're celebrating your special day and we'll make sure you not only get bucked up, but also take the ride of your life. 🍺